Meet Minnesota Author, Mary DesJarlais
Mary DesJarlais accomplished it all in the Midwest. Born, educated, twice married, twice widowed, she raised two lively daughters, survived a breast cancer siege, and launched a career as a fiction writer when her first novel, Dorie LaValle was published in 2011.
Calumet Editions, of Minneapolis, re-released Dorie LaValle at the end of 2017 and her second novel, The Cutter's Widow, will be released in the fall of 2018. Set in Saint Paul in 1915, The Cutter's Widow is the story of survival, grief and an adoption business gone awry.
Mary DesJarlais currently lives in St. Paul, Minnesota.
The Cutter's Widow
Even as it paints a vivid picture of life in Saint Paul, Minnesota at the dawn of World War One, "The Cutter's Widow" tells a timeless story about what is to be a woman in America. Among the streetcars, piecework factories and milliner shops, spirited female characters grapple with career, marriage, sexuality and reproductive freedom.  In a era when a woman could be reported for smoking in public, the ladies of this novel band together, protecting one another and easing the way for children and men.  "The Cutter's Widow" is  entertaining and suspenseful, but it's also important.  It reminds us that the issues women face today are not new, and the quiet strength of many is what carries us all.
~Ann Bauer, author of The Forever Marriage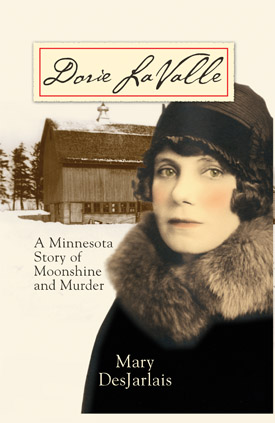 Praise for Mary's novel Dorie Lavalle
"In luminous prose and with a powerful sense of drama, Mary Desjarlais brings us a new kind of hero in the person of Dorie LaValle who has the grit and brains to survive both the challenges of Prohibition as a moonshiner and the impossible odds of finding her way through the backroads of the human heart. DesJarlais is a gifted storyteller, one who makes you lose yourself in a tale so fascinating you stay up all night reading and call in sick the next day, unable to forget the wonderful, heady mixture of beauty, humor, and brutal reality that saturate these pages. This novel announces Mary DesJarlais as a bright star rising in the literary landscape. It will move, disturb, and haunt you in the best way with its poetic intensity, its originality and its tough, no holds barred characters." – Jonis Agee, author of The River Wife 
"Dorie Lavalle is a story of three women who make moonshine, deliver babies, and dispatch bad guys in the dead of the wintry north. This is compulsively readable historical fiction with equal parts dark mystery and brazen romance weaved in." – Ann Bauer, author of The Wild Ride Up the Cupboard